With the holiday season here and Christmas literally right around the corner (next week!), I wanted to be sure I chimed in and shared something beautiful with you as a reminder of what this time of year is really about.
I came across a video just this morning as I thought to myself, 'really should post something on Soul Traveler today before getting too wrapped up in festivities..' that I find beyond perfect for the message I wanted to relay. The Universe really does work in mysterious/magical ways.
The holidays are an interesting time. If you're anything like myself, this is the time of year where you really 'feel it' – whether it is the weight of the world on your shoulders, the pressure to get gifts, hold that smile, the anxiety of last-minute shopping for things you have no idea if someone will enjoy, the end of the year expenses and the unavoidable new year resolution marketing – it's everywhere.
Here is your reminder to
B-R-E-A-T-H-E. 
Everything is in its divine place and all else will continue to flow in the direction it needs to best serve your story and purpose here on this magnificent blue & green marble we live on.
With that said, the holidays aren't about the gifts, but about us coming together with those we love to spend time, create memories, and be PRESENT.
And that's the key. Being fully present when with loved ones is the most beautiful gift you can give and an even more 'grand gesture' if you're normally too caught up in the digital plane to acknowledge those around you.
So here is my little story prior to sharing the above-mentioned video with you (and if you are in a hurry, by all means – scroll right down and watch this 2minute tear-jerker at the bottom of this article)..
My story is simple. Yesterday as my partner, Joe, was explaining Lord Of The Rings to me, I almost cried. The explanation was top-notch, no question, but that wasn't why I got choked up. The movie went on and I got a glimpse of a memory I had long forgotten that I will hold near and dear to me forever now.
What was it? Well..
When Lord Of The Rings first came out, it was also the week right after Harry Potter's first movie as well. I was BIG on the HP craze in 2011, and I had wanted to go see it 'so bad' and better yet – to add to the desire, its release date was my 13th birthday.
If you follow my works and journey, you know I've always been into magic, wizardry, other worlds – mainly because I live it in my own ways. I loved it more than anything and 'had to be there.' So, naturally, when I heard that the theatres were all sold out, I did the typical teenage girl thing and was upset.
Not only was my birthday 'ruined,' but I also I didn't get what I wanted. Blasphemous, I know. I can laugh at it now, and see how minute of a problem this really was, especially with the ending, but honestly wish to say that it was such an interesting time for me then (and not just because I was about to become a teenager) that I fully empathize with the little girl I was.
So what happened? When I awoke on the morning of my 13th birthday, I opened my gift. My mom had bought me the 1st Harry Potter book (which I had only read at the library at the time), with a beautiful note to me on the inside cover and 2 tickets to go see the movie that very evening. She had gotten her hands on them well before they'd sold out.
I WAS ELATED.
This story can go on forever, but the main point here is – this was the very last birthday gift I ever received from her. A few months later my mom passed away and I only wish for her presence now.
So yesterday, while being reminded of a specific time in my life, and then recalling this gift – I was saddened. Not because of the memory, but because that very book has now been long and gone due to all of the moving and traveling place to place over the years.
I wish I had it still. I wish I could read or even remember her last written words to me, but most of all, I wish her presence through those words were still here in my life physically.
Memories are beautiful. The people you build them with are even that much more magical.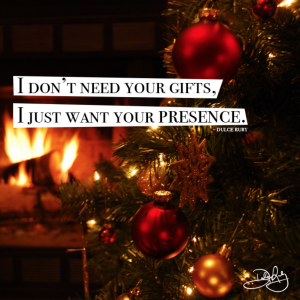 Reminder: This holiday season, be PRESENT.
We get so caught up in living our lives and growing up that we at times forget that those around us are growing old and our days on this planet are limited. Spend the moments you can fully submerged in their words, stories, and love.
Remember that it is not in the material they give that we should place our attention, but in their intentions, and love.
Remember, it is in the moments shared and memories built that we, as a collective, truly thrive. It is in those special little actions we take, and in our presence in them, that we see the intent & love for those in our lives & beyond.
My gift to you this holiday season & every day henceforth: LOVE.
I love you and am wishing you all such a beautiful holiday season!
Happy Holidays and remember to be present in all ways & always.
xx