After moving into the middle of nature, there's little that calls me to a BIG city – unless of course, it has to do with romance (or art – but that's another story soon to come).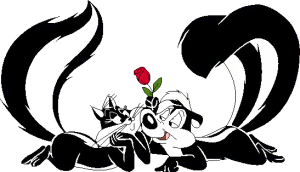 So back to the romance…
My partner and I spend A LOT of time together. However, most of this time is dedicated to working and creating conscious media, filming our conscious news segments, etc. so when I think of our relationship it's hard to think of 'relaxing' as the first thing we share.
I decided to shift that recently.
If I had a penny for all the times I have personally wanted a nice spa day and never took it, I feel like I would own my own spa establishment by now. It's that often! But honestly, reflecting on this and wanting to change the usual 'I'm too busy' – I then realized it would be nice to share this experience as well.
Like so many couples, my partner and I get caught up in our own lives and businesses that we overlook the need to relax – and more so, never think about the possibility of getting pampered, together. And there's the kicker. There's something to be said about disconnecting side by side with your significant other. So, I locked in a date and we both agreed we'd drive down the 2 hours and spend the day in the city together (and overnight to avoid two long hauls in one day), relaxing and taking it easy.
After the long, but beautiful, drive from our home to the city we checked into our hotel (which I got a great deal for and happened to have exactly what we needed – large bathtub for after the spa and no view so less city noise!).
We relaxed a bit then headed out to lunch at a vegan Mexican restaurant called Rosalinda that we had tried once before and I loved (I am Mexican-American after all..). I mean – look at these dishes!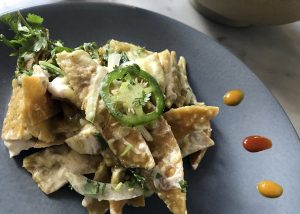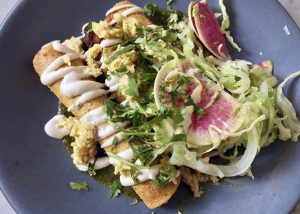 After lunch, we walked right on over to the highlight of our day: the spa!  Look, I'll be the first to tell you that spas have a great allure to them because of the ideal day you see yourself having. I research like crazy with anything I plan on doing non-spontaneously, and Hammam Spa was literally the only spa on my list at the end of the day that ticked all the boxes!
The truth is, it can be tough finding something that resonates with you as well as is seemingly perfect for the occasion. For me/us it was simple – I wanted to find something unique for us that really catered to our specific desires at the moment: a nice getaway in the city, some pampering, and an invigorating dose of heat.
With that in mind, I found that Hammam Spa in Toronto really fulfills that with their offerings of massages, facials, and a hammam steam room right in the city!
As someone who has traveled the globe and found the most beautiful of spaces and sacredness that different cultures bring forth, I was so happy to see the Turkish bath being brought to our side of the world as something that can aid so many in removing toxins and elevating one's spirit. I was unable to experience this service/treatment during my visit as we went with a couple's massage – but hope to give it a try next round as am so curious to get a real feel for this as has been on my bucket list for some time now!
As Hammam Spa states on their site,
Inspired by one of the oldest cleansing traditions in the world, the Hammam Turkish Bath is a purifying and refreshing ceremony that promotes well-being for body and mind. This treatment begins with 15 minutes in our Hammam Steam Room, followed by the authentic bathing ritual performed on a heated marble table in our Turkish Suites dimly lit by candlelight. Combining exfoliation and deep cleansing practices using eucalyptus black soap, together with warm and cool water techniques, this treatment will cleanse your body and gently soothe your spirit.
We were able to spend about 15 minutes in the Hammam Steam Room and then went in for our Céla Essential Balm couple's massage. We usually do this ourselves for each other, so it was nice to be able to lie side by side while someone else did all the work!
Here are some photos from their site:
This slideshow requires JavaScript.
All in all we had a great trip and time in the city, and Hammam Spa was definitely the highlight of it all!
We are blessed to live in the wilderness where it is naturally more relaxing and quiet than any city, but fully believe that if you are someone who is in the constant day-to-day of work, cities, and stresses of our world and finding yourself not making enough time to connect with your partner, let alone relax and take a moment to B R E A T H E – a visit to the spa is a great way to make time for both and give/gift yourself a bit of that R&R as an added bonus.
Sending you all so much love and hope this has helped inspire you to get out of the normal chaos of the city and work in some love and care into your schedule & lives 💜 ✨
xx
Dulce Ruby